Andrew Lieb, Esq., MPH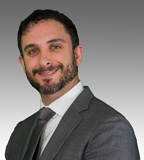 Tel: 646.216.8038 | andrew@liebcompliance.com @andrewliebesq
Andrew M. Lieb is the Managing Attorney of Lieb at Law, P.C., with a practice focus on commercial litigation and regulatory compliance. Mr. Lieb provides a wide range of legal services throughout the New York metro area on such topics as employment and discrimination litigation, brokerage license law litigation / compliance, title litigation / compliance, fair housing and discrimination litigation / compliance, contractual litigation, business entity structuring / litigation, ownership disputes and more. Mr. Lieb is admitted to practice law in the states of New York, Connecticut and Colorado as well as in the Federal Courts for the Southern and Eastern Districts of New York.
In addition to his legal practice, Mr. Lieb is a national compliance trainer and lectures to tens of thousands of employees / independent contractors. Mr. Lieb is the founder and Chief Compliance Officer of Lieb Compliance, an HR support / training company, which leverages the law to enhance business. Mr. Lieb is also the founder and lead instructor of Lieb School, a licensed real estate school offering in-person and online continuing education courses to Real Estate Salespersons and Brokers.
An active participant in the Suffolk County Bar Association and the American Bar Association, he also teaches continuing legal education courses, is an approved NY Attorney General Fair Housing Trainer and is a prolific author on legal topics.
Mr. Lieb has been published hundreds of times and is a Contributing Editor for The Suffolk Lawyer, law journal. Mr. Lieb is a columnist at Dan's Papers' Behind the Hedges Magazine with additional publications appearing in the New York Real Estate Journal, American Bar Association Journal of Real Estate Litigation and Condemnation, Nassau Lawyer, Huffington Post, Dan's Papers, Avenue Magazine, Homes of the Hamptons, and Homes of Eastern Long Island. Moreover, Mr. Lieb has been quoted in Realtor Magazine, Brokers Weekly, Bloomberg, NYREJ, and Businessweek. Beyond publications, Mr. Lieb has also made numerous radio appearances for NPR: Peconic Public Broadcasting, WHPC Radio, and WNYM AM970 while also having served as co-chair of the Real Property Committee to the Suffolk Bar Association for five years. Mr. Lieb previously instructed Human Sexuality at both Nassau Community College and Indiana University, worked as a grant write at Long Island Gay and Lesbian Youth (LGBT Network), and served as a research assistant at the Kinsey Institute for Sex, Gender and Reproduction.